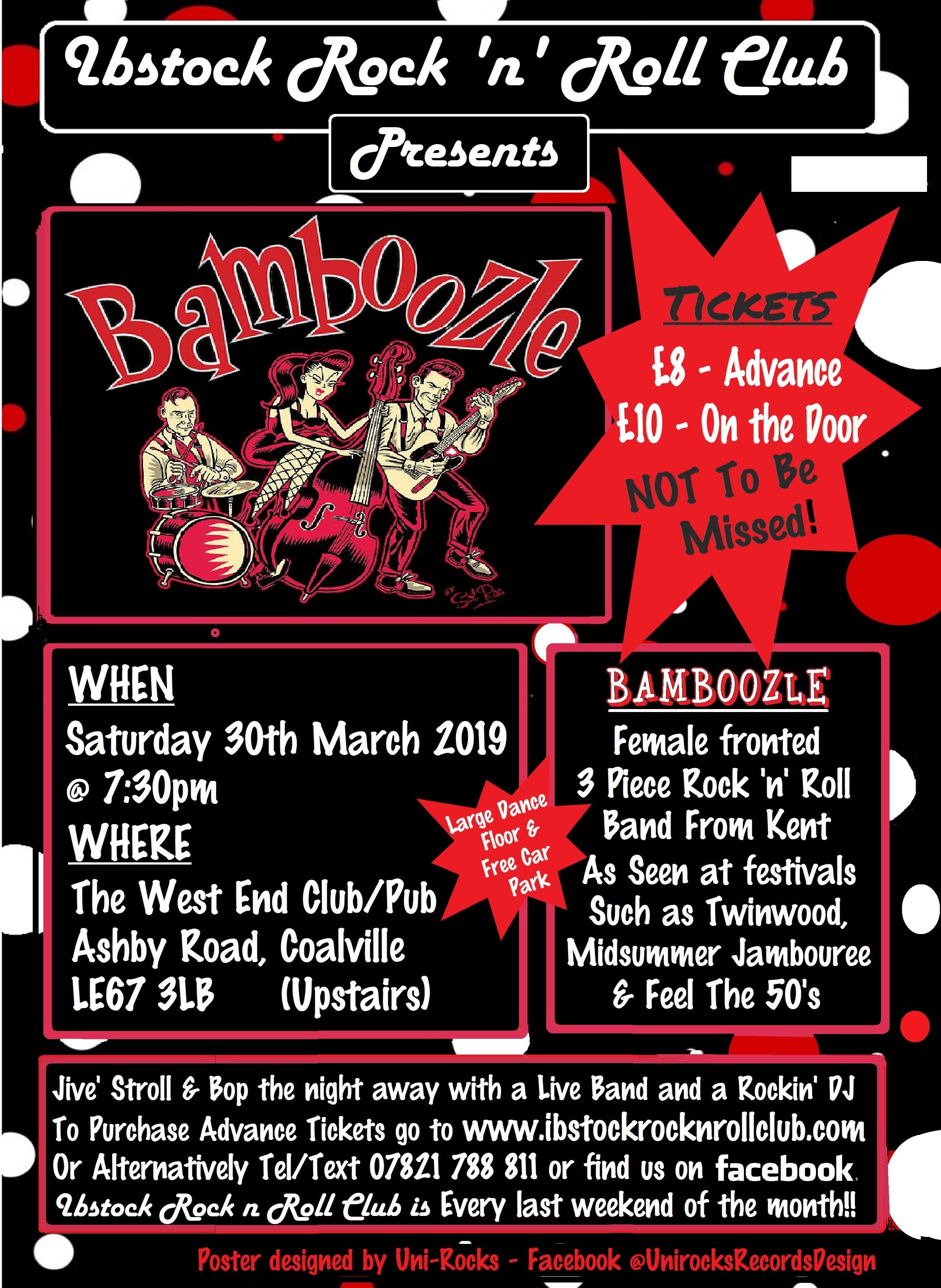 "...the versatility and original touch are fascinating" - Big Beat Magazine
 "...great musicianship, a super rockin' vibe" The Betta jive Review
We are super excited to welcome the fantastic Bamboozle to our club for the first time, they are a highly talented rockabilly/rock n rtll band from Kent. The band is made up of Serena Sykes on Bass and awesome female Vocals, Jim Knowler on Guitar/Vocals and Les Curtis on Drums/Vocals.
The Betta Jive Review February 2018
Would anyone want or need to categorise Bamboozle?  Not really, it's just not necessary to be honest, they just play a hugely enjoyable selection of top rockin' sounds.  Serena weighs in with some cracking Janis Martin tunes, 'Two Long Years' and 'Just Squeeze Me', Wanda Jackson's 'Fujiyama Mama' and 'Funnel of Love', Imelda's 'Johnny's Got a Boom Boom' and 'Mayhem', with some ace R&B in the form of LaVern Baker's 'Bumble Bee'. 
Then came some harmony, and call & answer duet vocals with 'False Hearted Girl', 'Hey Good Lookin' and 'Hey Boy Hey Girl'.  Slipping a couple of originals in added to the variety of sound, Jim's 'Ice Cold Beer' from last year, and Serena's 'Daddy's Girl'
Tickets on sale now at just £8 online or you can buy in person from either Matt or Sharon if you see them out and about.
Check out the bands awesome website https://www.bamboozlehq.co.uk/ they have some great rockin' songs you can buy from their website.
For you that havent been before we have a very large dance floor, big bar well stocked, free parking down the side and around the back of the building, 10 mins from junction 22 of the M1, 5 mins from junction 13 M/A42  also plenty of stalls Rock-A-Billys @RockABillysCoalville and Sharron's Vintage fashions and hair flowers